"About Cabo's"
Poverty Breeds Creativity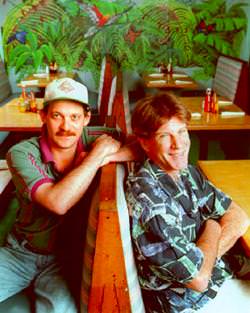 With little money and a lot of enthusiasm, Mike Ferrara and Bobby Staerker have transformed Cabo's Tacos into a thriving business

"Don't think bucks, think people" A '60s philosophy of good karma, mixed with the possibilities of capitalism and imagination, have spelled success for Cabo's Tacos. All the equipment is second-hand, from the Pizza Hut oven hood to the booths to the sink rescued from the side of the road. All the construction was done by friends and acquaintances late at night, in exchange for beer, food and, on one occasion, a sailboat. And the atmosphere at Cabo's Tacos is pure laid-back, from the "No Ties After 5 p.m." sign at the door to owner Mike Ferrara walking around in shorts topping off patrons' beer mugs for free. "Don't think bucks, think people. Help your brother, and he'll help you," Ferrara said. "This is all just basic '60s philosophy." Well, basic '60s philosophy grossed $700,000 last year. With a recently acquired liquor license, it should rake in $1 million this year. And if he chooses, Ferrara can take off anytime for another sail around the Caribbean. All of which is a heart-warming testimony to the profit of good karma -- and the possibilities of American capitalism.

"(Cabo's) is not a traditional business; Mike is not a traditional businessman," said Dale Thompson, Capital City Bank vice-president who's backed two successful Ferrara ventures. "(Cabo's) was a gamble that has worked out well. It sends a message that if you don't get greedy, you can make a profit out of the restaurant business."

Cabo's (KAH-bo's), which just passed its second birthday at its current location, is on the backside of the Parkway Shopping Center, off Lafayette Street. It used to be a dark neighborhood bar called the Peanut Barrel Pub. But fueled by imagination and a lot of help from friends, Ferrara and partner Bobby Staerker have transformed Cabo's into much more. Now, it is a brightly colored vision of its namesake, the Mexican seaside village of Cabo San Lucas. Murals cover three walls and the ceiling (another mural is being painted this week). Televisions play surfing and snow skiing videos. One of Ferrara's old surfboards adorns the wall, as do group photos of the nine annual community parties thrown by Ferrara.

The menu is an interesting melange of Mexican dishes, fresh seafood and vegetarian creations, whose prices run from 99 cents to $13. Cabo's 156 seats are filled at lunch and dinner by a clientele that ranges from high-powered lobbyists and legislators to aging hippie carpenters to middle class families. But while much can be said for the food, atmosphere and prices of Cabo's, its success is a tribute to attitude. Because it is Ferrara's surf-bum charisma and enthusiasm -- balanced by Staerker's common sense and restaurant experience -- that has made Cabo's an advertisement for small business.

"This restaurant was built on the goodwill of local people helping local people," Ferrara said. "With all the chain restaurants, it's neat to know we can compete."

Success born of Mexican inspiration and personality

Cabo's is Ferrara's third successful business -- and serves as proof that ambition can arrive late. Ferrara, 44, is a lifetime surfing addict, who left Jacksonville for California shortly after high school graduation. For 14 years, he ambled from wave to job to wave. He tended bar in Colorado, served in the Merchant Marines, worked for charter sailboats and diving shops in the Caribbean and repaired surfboards in Hawaii and California. He spent two national tours setting up drums for the Lynyrd Skynyrd band. "I basically surfed, and did whatever odd jobs I could," he said.

In 1983, at age 32, Ferrara decided it was time to get a career. He enrolled in the nursing program at Tallahassee Community College, graduated and worked briefly as a nurse before deciding hospitals weren't his cup of tea. He wanted a business of his own, and realized he had never seen a laundromat go out of business. The rest is local legend: In 1985, Ferrara invested his savings of $13,000 in Speed Wash, a down-at-the-heels laundromat near the corner of North Meridian and East Tennessee streets. Only four of the 20 washers and three of the 10 dryers worked. Business was sparse. But armed with a couple of repair manuals and a ton of personality, Ferrara transformed Speed Wash into a roaring success. He fixed the machines, cleaned up the building and decorated with plants. He served pizzas on Wednesday nights and doughnuts on Sunday mornings.

He began a wash, dry and fold service that attracted the trade of legislators -- and a just out-of-office governor named Bob Graham. He sold T-shirts that read, "I Dropped My Drawers At Speed Wash." In 1987, he held the first of his now-annual street parties that attract hundreds with free bands, beer and nachos. Things went well, especially once Ferrara hired a manager, Ann Poppell, and began chasing the waves again.

This time, pleasure led to business inspiration. Visiting old friends in San Diego and surfing across the Mexican border at Cabo San Lucas, Ferrara ate lunch one day at a San Diego taco stand called "Juanita's." It was just a little shack, with a small menu. But the food was great and the operation seemed simple. Ferrara returned to Tallahassee inspired to become a restaurateur.

Thus in 1989, he opened Cabo's Tacos in a tiny corner of the Parkway Shopping Center about 100 yards east of his current location. Unwilling to sell the laundromat before the restaurant prospered -- "I don't believe in jumping out of planes without a parachute," he said -- Ferrara went to Thompson at Capital City Bank for a loan. Ferrara asked for $23,000 to match the $18,000 in gold, silver and diamonds he could bring to the project. Thompson raised an eyebrow at financing a first-time restaurateur. Ferrara, with his then-long hair tied back in a ponytail, wearing shorts and flip flops, picked up a piece of paper, balled it up and lit a lighter under it. "I said, 'Dale, you'd loan $23,000 to one of your friends to buy a Beamer (BMW). All I want to do is start a business,'" Ferrara said. "I said, 'Even if I was to burn your money right in front of you like this paper, I'd still pay you back.'"

That little bit of theater charmed Thompson, and he approved the loan. And fueled by the word-of-mouth advertising by former Speed Wash customers, Cabo's was an overnight success. Within two years, he paid off the loan. And confident of the continued success of Cabo's, he sold the laundromat for $32,000.

Life seemed perfect. He bought a 40-foot trimaran sailboat, turned over operation of the restaurant to a manager, Sharon Miller, and set sail for the Caribbean. But in March 1993, after five months of island-hopping, Ferrara and his boat were shipwrecked in the village of Gaspar Hernandez in the Dominican Republic. Repairing the boat and living there for several months cost him $22,000. He turned to Tallahassee to find his bank account depleted and his lease on Cabo's Tacos about to expire. Out of those ashes came Cabo's Tacos, the restaurant.

Cabo's built on sweat equity, beer, friendship

Ferrara wanted something bigger and better than Cabo's Tacos -- even though he had no money and no clue about running a real restaurant. One key was enlisting Staerker, 38, as a partner. A friend of Ferrara's for years, Staerker had been a waiter at two Tallahassee restaurants, an assistant chef at the Radisson and for 10 years a bar manager at the now-defunct Grand Finale's. He runs the kitchen at Cabo's and often cooks.

"As individuals, we are totally polarized," Staerker said. "I'm a golfer, Mike's a surfer. I'm married, he's single." "But he sees things I'll never see, from a people standpoint. And I see things from an experience standpoint he's never thought of. We complement each other well."

Another key, of course, was getting Thompson to approve another loan. By this time, Thompson had financed a taco stand, a duplex, a car and a boat for Ferrara. Staerker had $15,000 to invest. And Ferrara was asking for a loan of only $33,000 -- claiming he and friends would do all the labor. "The more Mike described what he wanted to do, the more I thought, 'Oh no!'" Thompson recalls. "But he had done well on his other loans. I figured for $33,000, we'll take the gamble."

The gamble worked because of people like carpenter Russell White, plumber John Hoover, contractor Jerry McFarland, electrician Miles Kennedy, artist Cindy Rios and dozens of Ferrara friends who pitched in to build Cabo's. Ferrara and Staerker stripped former Peanut Barrel Pub to the bare walls and floors. Later, they laid tile and put up sheetrock. But the bulk of the work was done by the skilled friends who came in every night for four months, after putting in long days at their real jobs. Those friends installed the wiring and plumbing, did the concrete work, built the kitchen, the bar and the work stations, painted the murals and the walls. All of them worked for a fraction of their normal pay. Ferrara bought workers dinner, the beer taps flowed freely. Ferrara bought a small sailboat Hoover coveted, then presented it to him when the plumbing was complete.

"This place was built on sweat equity," Ferrara said. "Poverty breeds creativity." Some people pitched in because they were charmed by Ferrara's enthusiasm. Armed with postcards of Cabo San Lucas, and pictures of his sailboat in the harbor of Gaspar Hernandez, Ferrara commissioned Rios and partner Mary Adore Coloney, plus Steve Bergeson, to paint murals in the restaurant. "I love it when someone has a wild idea and just wants to go for it," said Rios, who also designed Cabo's layout. "That's what Mike did, and that's what makes his restaurant unique."

Most people helped because they liked Ferrara -- who is a bit like a character created by his favorite singer, Jimmy Buffett. Ferrara has a gift for remembering names and backgrounds, frequently dazzling a one-time acquaintance by asking things like, "You ever get that clutch fixed?" He is an eclectic student who can converse with politicians about the latest brouhaha in the Legislature, bandy issues with sports fans or argue existential meaning with beery bar patrons. He is an ever-upbeat personality, who makes friends easily. "He's definitely a charming character," said White, who has known him for a dozen years. "He likes people and he likes the interaction with people. I think his energy tickles people."

'We don't make a killing, we make a living'

Such energy was necessary after the current Cabo's opened Jan. 31, 1994. Ferrara had never managed a staff of 34, never faced a Friday night rush, never dealt with the demands of a full-scale restaurant. The inexperience showed. As with the previous Cabo's, the patrons came in hordes -- then endured long waits and menu outages as Ferrara and Staerker learned to tame their new beast. "We were pissing off people because we didn't know what we were doing," Ferrara said.

Under Staerker's calm hand, the operation smoothed out. The menu expanded and remains home to constant experimentation. Cabo's expanded from 130 to 156 seats. In March, it obtained a liquor license. By last fall, Ferrara and Staerker had paid back all but $4,000 of the $33,000 loan. They then borrowed $15,000 for the expansion and liquor license, but expect to have their entire debt paid off by the end of this year. "We have never lost a dime since we opened the doors," marveled Staerker. "I've worked in restaurants since I was 11, and this one runs better than most."

Such success is gratifying to Thompson, who credits the low overhead Ferrara and Staerker created for themselves. Thompson said it costs an average $1 million to buy land, equipment and inventory for a restaurant in Leon County. He said the industry's high failure rate prompts many lenders to deny all restaurant loans. "Mike and Bobby are making a good living because they haven't strapped themselves with a big debt," Thompson said. "(Cabo's success) tells a banker that if you can get to know your client, you can take some gambles on local business."

Such trust was never a gamble to Ferrara, the eternal flower child. He is fond of saying, "We don't make a killing, we make a living." He believes in channeling profits to employee raises, and boasts "No one in the kitchen makes less than $6 an hour." He enforces his "no ties after 5" edict with a smile -- noting he owns no ties, sport coats, dress slacks or loafers. He tops off patrons beers, shrugging off the minimal cost as advertising and saying "That's the kind of thing that would freak me out as a customer."

Mainly, he is proud of creating a restaurant for "people like me." "I've never had a business plan, never thought, "Do this and you'll make that much money,'" Ferrara said. "If you take care of people, they'll take care of you."



"Cabo's History"
The Back Story
The Original Cabos's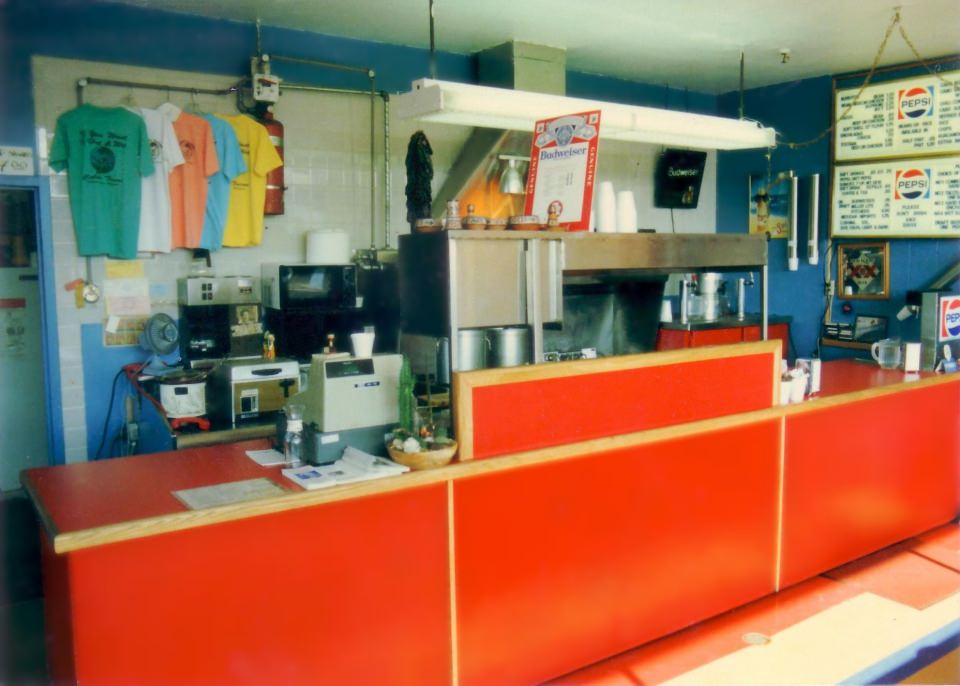 The Legend Of Cabo's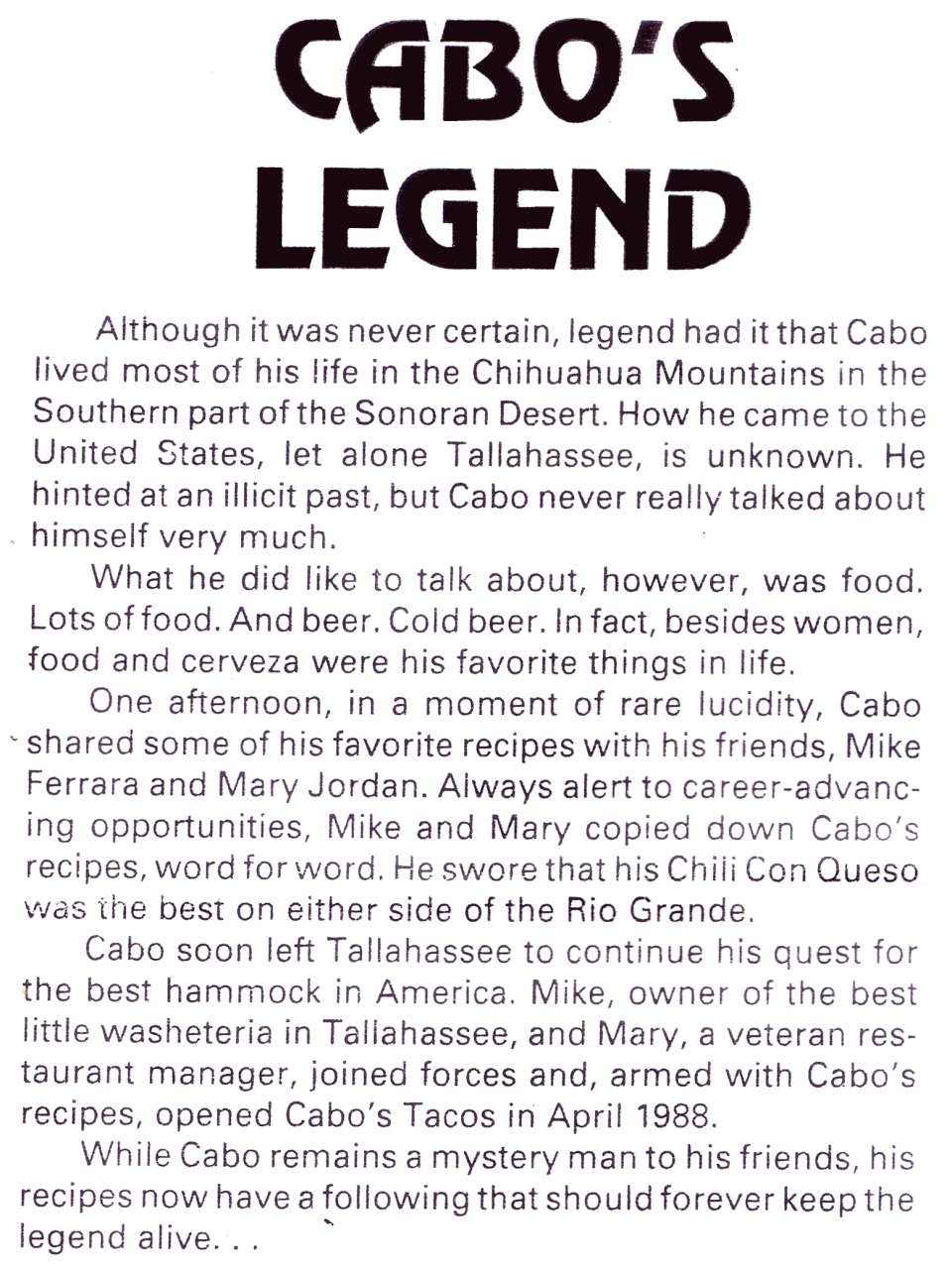 A Typical Cabo's Road Trip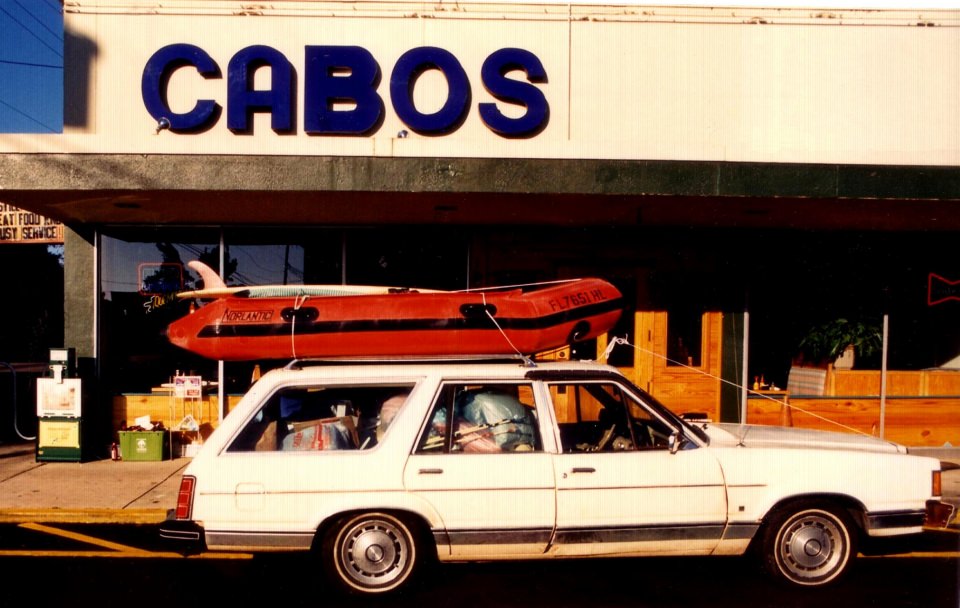 Just Friends At Cabo's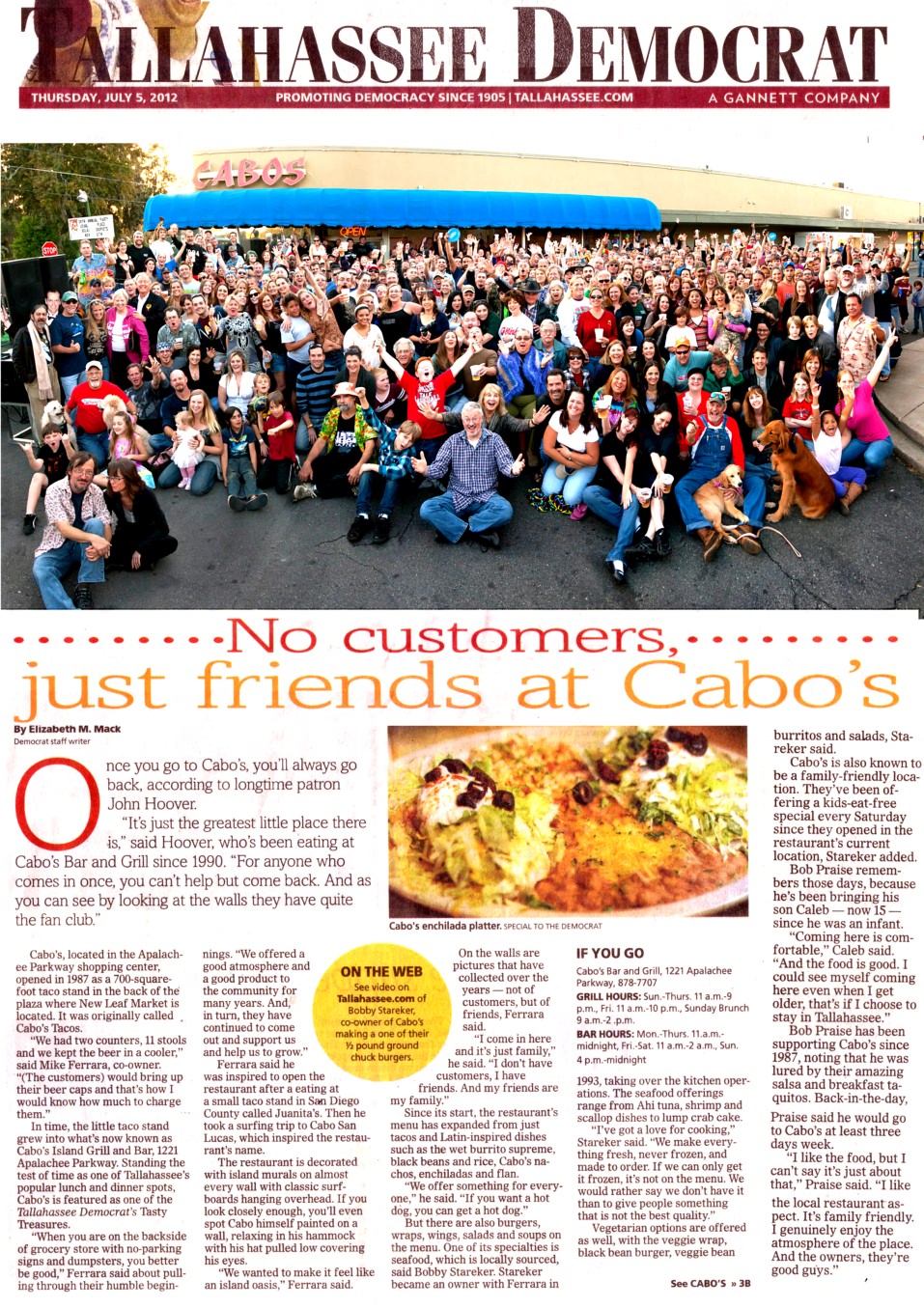 The Cabo's Family